Zitro has held its Zitro Experience and Zitro University events on March 29-30 in Buenos Aires, Argentina, within the framework of SAGSE. This annual event, which has already become a benchmark for the gaming industry in Latin America, once again impressed guests with an evening full of surprises and excitement, and a spectacular new product presentation.
Alejandra Burato, Zitro's Regional Director for Latin America commented: "During this year's Zitro Experience and Zitro University events we have reunited with customers and friends in Argentina, reaffirming our commitment to the region. Our new product launch in Latin America, which include top-tier slot games and a spectacular new line of cabinets, are part of the development of product innovation for operators looking to offer a new gaming experience and attract new customers to their casinos. I would like to thank all the attendees, for once again, joining us during this great week."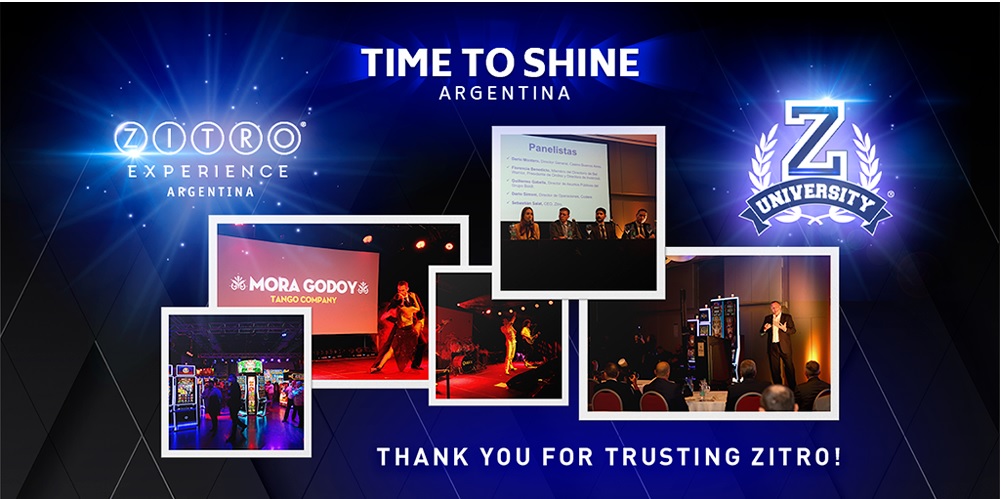 During the Zitro Experience event, the company showcased the brand-new GLARE cabinet line: Altius Glare, Illusion Glare, Allure Glare and Fusion Glare; It also displayed the spectacular multi-game, Wheel of Legends featured on the premium Altius Glare cabinet, along with Megashare Lounge, the shared progressive jackpot system. "We are grateful for the trust operators have placed in us and are very proud of the acceptance our new products have received. We are confident this innovative product line will offer players in Latin America a truly immersive gaming experience", added Alejandra Burato, Zitro's Regional Director for Latin America".
After Zitro's product presentation, the Zitro University academic event took place in collaboration with the University of Palermo, which included an informative session by Professor Patricio O'Gorman of the University of Palermo, and a round table focusing on "Changing consumer habits and pandemic-driven technology acceleration". The renowned panelists were Dario Montero, CEO of Casino Buenos Aires, Florencia Benedicto, Board member of Bet Warrior, President of Ondiss and Director of Inverclub, Guillermo Gabella, Press and Broadcasting Manager and Legal Director of Boldt Group, Dario Simoni, Chief Operating Officer of Codere Group and Zitro's CEO, Sebastian Salat.
"Argentina is a key market that has undoubtedly contributed to Zitro's growth in the region, and continues to expand, thanks to the efforts of our team, and the confidence operators have placed in our products. Today we have achieved our goal of showcasing our amazing content to our friends and customers in Latin America, and we are confident it will appeal to operators looking to expand their entertainment offerings, and that it be widely enjoyed by players. I would like to thank the University of Palermo and Professor Patricio O'Gorman for their continued collaboration and contribution to the success of our Zitro University academic event. And finally, I would like to thank the important industry players who joined the panel. The Zitro Experience and Zitro University events have been two fantastic occasions for Zitro to shine thanks to its innovative product line," stated Sebastián Salat, CEO of Zitro.
Source: Read Full Article